I meant to do this post a long time ago before I even went on a hiatus. However I never had the chance to do so, because my schedule was jam packed which I had to go on a hiatus. Now that since I am back, I decided that I should be doing it. Originally, the routine I will show you guys today is not the same as the one that I had back then before the hiatus in January I believe. My routine has changed up, so I decided there's no point in doing the other one since I'm not even using it anymore. Last time I used a foundation, but now I've discover a new BB Cream I like and I would like to share it with all of you guys today once and for all.
Step 1: First of all, I start with a clean hand and I apply my primer to make my skin be a smooth canvas for the makeup and to make the makeup I put on last longer. The primer I use is the Pixi Flawless & Poreless. It's definitely a miracle in a tube just like it says. The product is very smooth and silky. The way I apply it is by smoothing it out all over my skin evenly and then at the end I pat my face a bit so the product would get into my skin and work it's miracle.
Step 2: Here comes the magic product that I use to create a flawless, yet natural skin is the Missha Perfect Cover BB Cream SPF 42 PA+++ that I mentioned in my last haul. The shade I use is #13, which I believe is the lightest shade they have. I do want to say that the bb cream is a pink base shade, so if your skin is of olive undertone, I probably wouldn't recommend this product. My skin undertone is neutral, so I can make the product work since I am in the middle of pink and olive undertone skin. I apply the product with my fingers on the problem areas first, and then I use whatever is left on my fingers to help blend it into my skin. I use about 1.5 pumps for my entire face.
Step 3: Since my skin hasn't been acting up the last few months, I haven't had to use any concealer at all for my skin, except under my eyes. The concealer I use for my eyes is the Maybelline Instant Age Rewind Eraser Dark Circles Concealer + Treatment in Fair 110. The way I apply this concealer is by drawing a V shape under my eyes, and this helps lighten and brighten my under eyes circles. I have been very busy lately, so this product helps a lot because I am always tired.
Step 4: For highlighter, blush, and bronzer, I have been using the same products lately, so I guess I'll share it with you guys since it's becoming a daily staple every time I apply makeup. Highlighting, I have been using the Boots No7 High Lights Illuminating Lotion and I just apply it using my ring fingers on the top of my cheekbones. As far as blush goes, I have lately been using the TIGI Glow Blush in Awaken. It's a really nice peachy coral color that goes great with the current season. I use this with a blush brush from MAC. For bronzer, I have been using the Burberry Warm Glow Natural Bronzer in Warm Glow. It is such a nice bronzer to use as winter transition to spring. I apply this using an angle blush brush also from MAC.
Highlighter Blush
Bronzer
116 Blush Brush
168 Large Angled Contour Brush
Step 5: To powder up my face, I use the Bare Escentual Heavenly Face Brush with the Rimmel London Stay Matte Pressed Powder in Transparent. The Bare Escentual brush is a flat top kabuki brush, so it really helps applying that powder into my face very well. As for the powder, it is an overall great powder, especially if you have oily/combination skins. It really helps lock in your shine through out the day, but it is also great for all skin types.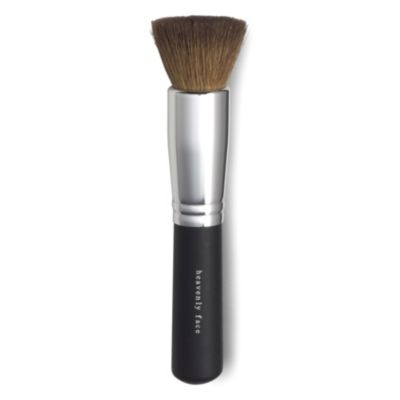 *Sometimes, if I feel like the switching up the powder a bit, I will go for the Make Up For Ever Super Matte Loose Powder in Translucent Natural 12. It is like the higher end version of the Rimmel London one, and they work for the same purposes and are very similar products.
I still do my eyebrows the same as I did. I don't really change up my eyebrows routine that often. If I find that I like a routine, I will just stick to it.