I know that this post is going up very late, but I figured that later is better than never. Or at least where I live it is late, so hopefully where you live is not late at night. Anyway, I'm going to stop rambling about why this is going up late and get started.
Face Products:
1. L'Oreal Revitalift Miracle Blur- My current favorite foundation primer. It acts as both a primer and moisturizer in one. Give a slight tint of coverage for me. Highly recommend this product if you want to hide any imperfections!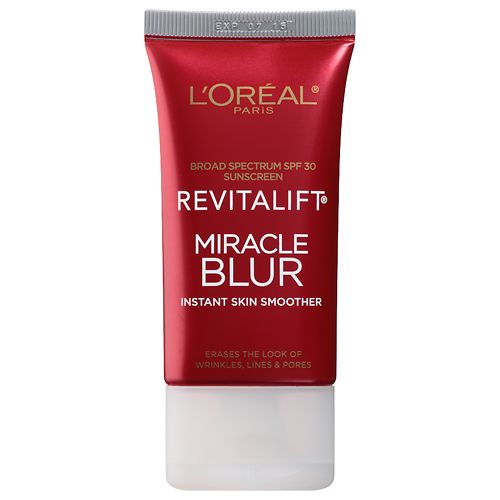 2. Clarins Extra-Firming Foundation SPF 15- I have this in the shade 104 cream. Seriously, this product is one of the best high end foundations I have tried. It works great for oily and combination skin type and for young to mature skin. Although I recommend this more for more mature skin since it is a firming foundation. However, if you are oily/combination and what a full coverage foundation, I highly recommend this foundation.
3. Physicians Formula Strength Concealer RX- I have this in the shade Fair Light. This is the best drugstore concealer that I have used. It covers great for the face and under the eyes as well.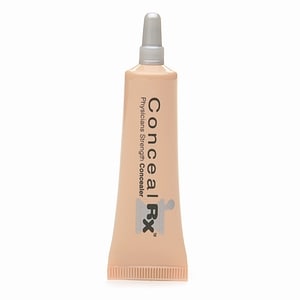 4. Palladio Beauty Rice Paper- I personally like these better than some of the higher end ones like the Sephora brand.
5. Hourglass Ambient Light Powders- This is just not your typical face powder. It adds a very nice finish to your skin. It is very hard for me to explain. I highly recommend you to check out this product. It is expensive, but worth the money!
6. Rachel K CC Cream Original in Light- CC Creams are getting more popular nowadays, but this particular CC cream is not getting the fame it deserves. It gives out nice coverage and even outs the skin tone very well.
7. The Face Shop Clean Face Oil Free BB Cream- This is one of my all time favorite BB Cream. It gives out a very nice coverage and lasting finish. Such an amazing product!
8. Sugargoop! Daily Correct CC Cream Broad Spectrum SPF 35 Sunscreen- This is also another CC Cream that I really like. If you are interested in CC Cream, I recommend trying this out over any other ones because it is affordable and easily accessible. You can find it at Sephora.
9. Prestige Skin Loving Minerals Powder Foundation- The best mineral foundation I have ever tried! It beats out the Bare Minerals one for me and it is a much better drugstore mineral foundation than the one that Maybelline makes. If I feel like wearing mineral foundation, I will go for this one.
Cheeks Products:
1. Prestige Sun Baked Mineral Bronzing Powder- This is a very great bronzer just like any other bronzer that you all hear about. I highly recommend you checking out this bronzer and they have it in a few other shades as well.
2. Boots No. 7 High Lights Illuminating Lotion- I have talked about this product before a few times. It is the cheaper dupe for the Benefit High Beam. So if you are thinking of repurchasing the Benefit one, I suggest giving this a try first just in case you will like it as well.
3. Becca Cosmetics Mineral Blushes- A great high end blush with great pigmentation, quality, and decent price.
4. Canmake Powder Cheeks- This is a Japanese brand, but you can easily order their products online. They have beautiful shades and they are very affordable.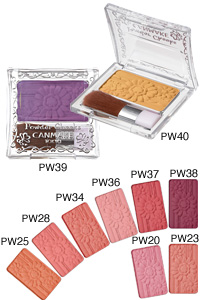 5. Clarins Blush Prodige Illuminating Cheek Colours- Just another great blush that is overlooked by the beauty community. I have all of the shades and none of them have failed to impress me.
6. Edward Bess Ultra Luminous Bronzer- I obviously own the lighter shade, because I have light skin. This is a universally suited bronzer for all skin tones. So if you are wanting to invest in a great high end bronzer, I recommend this as your first choice. It is not too orange or too brown, and you can't really overdo it.
Eye Products:
1. Palladio Beauty Herbal Eyeshadow Primer- The best drugstore eyeshadow primer I have ever tried! It is so high quality, an absolute love! It is very silky and smooth.
2. Giorgio Armani Eyes to Kill Intense Eyeshadows- It is the most high quality cream eyeshadows I have ever tried. It is so pigmented and last a very long time on your eyes.
3. Kat Von D Shade Shifter Eyeshadows- I have two of the shades which are Devotion and On the Road. These are such investment, because they are expensive and really high quality. It is not chalky at all, but very smooth and pigmented. You can find them at Sephora.
4. Styli Style Eye Line & Seal 24 Eyeliners- This brand overall is just a very underrated brand. It is unknown to most people. This particular product attract my attention. It is good quality.
5. Benefit Lemon-Aid- This product is great if you have redness on your eyes that you want to conceal. It acts as both a great concealer for the eyelids and primer for your eyeshadows.
6. Koji Dolly Wink Liquid Eyeliners- Even though this is a Japanese brand, you can easily find it online or at Asian beauty stores. These are best liquid eyeliners I have ever tried in my entire life! Absolute love!
7. K-Palette Real Lasting Eye Liner 24h Waterproof- This is also another Japanese brand and you can order it off of sasa.com or at an Asian beauty store. It is a very popular product in Japan, but internationally it is a very underrated product. If you were to choose between this and the Koji one, I recommend this one because it works a bit better.
Lip Products:
1. Tarte Glamazon Pure Performance 12-Horu Lipsticks- I love the formula, texture, and just everything about this lipstick. It is very comparable to many other high end lipsticks, but it just doesn't get enough love for its quality.
2. Rimmel London Lasting Finish by Kate Moss Lipsticks- This is one of the best drugstore lipsticks you will ever find. I have all of the colors and they are all great quality. I highly recommend it!
3. Rimmel London Exaggerate Automatic Lip Liners- This is one of the only two drugstore lip liners I like along with the next one that I am going to mention. It has a nice range of colors and awesome quality.
4. Wet n' Wild Color Icon Lipliner- The only downside to this is that it doesn't have many shades available. Other than that, I have nothing to gripe about this product.
5. Palladio Beauty Herbal Lip Glosses- It smells amazing and high quality is all I have to say about this product! However, you can only find this brand at Sally's Beauty Supply.
6. Prestige Skin Loving Minerals Lasting Moisture Lip Glosses- This is very similar to the Revlon Super Lustrous Lipglosses. So if you love that, you will definitely love this.
7. Wet n' Wild Mega Last Lip Colors- They are not the best lipsticks you will find, but they are definitely worth more than they are retail for. They have great pigmentation, but just a bit drying. However, you can always fix that problem with lip gloss.
8. Wet n' Wild Silk Finish Lipsticks- The same thing goes for this just like the above Wet n' Wild lipstick I talk about above. Great quality, not the best, but definitely worth more than it is worth!
9. Seventeen Mirror Shine On Lipsticks- I never heard of this brand talked about online and in real life. So I just wanted to put it out there that this brand does exist and makes great lipsticks!
That is it to everything that I wanted to share with you. Talk to you all later!