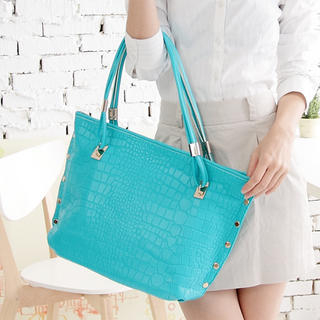 Summer is here in just a few days, so that means it is the beach time! I did a post like this about a year ago, but now since almost a year have past, things in my beach bags does change a bit. So I thought that it was very appropriate for me to do so, and I love putting a lot of things in my beach bags, so I do have quite a lot of items. And this isn't only focus for the beach, this is also what I bring when I go to the pool. Although, I love the beach more because of many reasons. Anyway, I'll get started with what beach bag I am using this summer and this summer I am using the Miss Sweety Croc-Grain Studded Tote in Blue Green from yesstyle.com. And I really love this bag because the color is just so vibrant and is just so beachy, and it's big enough to fit all of my belongings, but small enough for me to carry around. Lets get started...
1.) Mossimo Lucita Gemmed Flip Flop in Black- I am a heels girl, so I love wearing heels anywhere. But to the beach I don't like to wear high heels because than it will get all messed up, so when I am going to the beach I wear heels. Although, when I am on the beach I need to change to something more beachy like flip flops, and current favorite are the Mossimo Lucita Gemmed Flip Flops. I have all of the colors which are Rose Gold, Silver, and Black. For the beach I like to bring my black ones because it will match any color of my swimsuits.
2.) Towels- I always bring with me a beach towel so I can lay on the beach, and I just get ones that are cute from Target. And I just bring a regular towel to dry myself up when I am wet or when it starts to get cold.
3.) Magazines- I used to bring a book with me whenever I go to the beach, but now I've found that I like reading magazines a lot better on the beach. Magazines are more lightweight and carefree than books, and when I am on the beach I want to have fun and relax, not stuck to a book. And my favorite to bring to the beach are Seventeen Magazines and People's Magazines.
4.) Sunblock- I bring two sunblocks when I go to the beach, because the one I use for my body breaks out my face. The one that I am currently using and loving for my face is the Neutrogena Age Shield Face Sunblock SPF 70. And the one that I use for my body is also by Neutrogena, but it is the Spectrum + Advanced Sunblock Lotion SPF 100+ and last year I've used different sunblocks for both my face and body, but now I've discovered new ones that I liked better and are cheaper too.
5.) Tumbler- This year I started to use a tumbler more than water bottles, and the one that I have is my shopglitzyglam.com and it is in Hot Pink and Sky Blue with my initial on it. And the sky blue totally match my beach bag, which is so so great and it is just more cute than a water bottle. So I just filled it up with ice cold water and bring it to the beach.
6.) Sunglasses- I bring sunglasses wherever I go, but I especially make sure that I always bring it along with sunblock to the beach. The sun can really damage your eye and areas around your eye so it is really important to bring a good, and nice pair of sunglasses to the beach or the pool.
7.) Phone/iPod- I also always bring my phone and ipod with me, but now that I have an iPhone I just have to bring one electronics. And it is so much better than having to bring two electronics with me. And along with it I bring a headphone if I want to listen to music.
8.) Wallet- This is just an essential. It has many things that I need like my cards, money and etc.
9.) Keys- This is also another essential along with my wallet and many other items. So I just have a bunch of keys with me.
10.) Huggies Natural Care Wipes- I now am starting to bring wipes with me, because I remember that when I am starting to leave the beach, I would have sands all over my legs and even face. And the look of sand on skin is just not cute, so now I am bringing Huggies wipes with me. It is pretty small to bring to the beach with me in my beach bag, so I have no problem with it.
11.) Aveeno Eczema Therapy Moisturizing Cream- I have eczema on my palm, but I don't have it all the time. It comes and goes away pretty quickly for me, but I get it a lot on the beach, so I need a super moisturizing lotion to heal it. And the one that works best for me is the Aveeno one and along with CeraVe, but I use that at night.
12.) Makeup Bag- I am currently using the Benefit Travel Beauty Bag, and it fits everything I need. And I don't wear makeup to the beach anymore, because my skin is a lot clearer now and I can just wear my sunglasses if I want to look prettier. So the Benefit Travel Beauty Bag is perfect for the beach, since it has that summer theme to it. And these are the things that I keep in this makeup bag...
- Wide Tooth Comb
- Hair Ties
- Hair Clips
- Bobbi Pins
- Deodorant
- SPF Chapsticks/Lip Balms(Softlips, EOS, Jack Black, Nivea, etc)
- Compact Mirror
14.) Under Garments- I think we all know why I bring this.
15.) Dress- When I go to the beach I like to bring a dress with me, because it is really easy to put on and I don't like changing at the beach. So a dress is great, since it is a quick outfit to put on. And I always wear my bikini under my dress, so when I get to the beach I can just take off my dress and I'll be done. And when I am about to leave, I can just change into my under garments and put on my dress.
16.) Outerwear- Me, friends, and family usually leave the beach around 5-7pm so it's getting really cold especially near the beach. So I bring an outerwear everything that I can throw on my dress to keep me warm.
17.) Straw Floppy Hat- To keep my face and hair protected from the sun, I bring a big straw floppy hat. They are stylish, and is great to protect your head from the sun.
These are everything that I bring and will be bringing again to the beach/pool this summer. Hope you all enjoyed it!