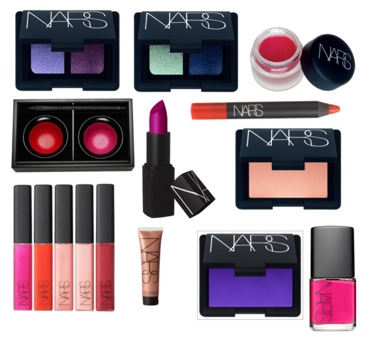 Hey, everyone so I've always gotten a lot of questions about NARS, because if you didn't know already NARS is my favorite makeup brand by far. So I am always getting questions about what are my favorite products. So I figured that I would just tell you guys the products that I use all the time and that I absolutely love. I will also be doing a MAC Start Kit blog post, but right now I am going to just go ahead and do my NARS one. This is really great for someone who isn't familiar with the brand and kind of just want to dabble in it just a little bit. I will start off with face product and so on.
Face:
Sheer Glow Foundation- Now I wear the color Deauville and I think that NARS has one of the best color ranges out there. They go from really really fair to really deep skin tones. I really like that, because it is really hard for me to find my foundation. Because I am Asian so I have yellow skin tone, but I don't have completely Asian skin since I am also part European. So this matches my skin perfectly, I just love it. Now keep in mind that I have combination oily skin, but this is specifically made for normal to dry skin. But this works really well for me, it doesn't make my skin look oily so this means a lot.
Stick Concealer- This product is very well love by me. And it just twist up like a typical lipstick or stick concealer. I don't use this under my eyes, because it does crease. It will cover up for your dark circles, but I find that it creases and I don't like it creasing. So I use this for blemishes and any kind of discoloration I have on my face. And it works wonders. I have it in the shade Vanilla.
Cheeks:
Powder Blush in Deep Throat- Yes, I know the name is absolutely horrible and a bit inappropriate for younger girls, but this is a wonderful blush. This is one of my all time favorite blushes and NARS is really famous for their Orgasm blush, which is similar to this only I think it can be a little too intense. I think Deep Throat is a much nicer more wearable version of Orgasm. And this is just a really pretty peachy pink shimmery blush it has some gold reflects in it and it does look a bit glittery in the packaging. But once you put it on it is really not glittery at all and I love this. And this is definitely one of my staple blushes and if I am not sure what to wear this is the blush I reach for.
Cream Blush in Penny Lane- And this is just a really nice natural pink color. And this just gives you a really nice natural blush. The thing I like about the NARS cream blushes are that they are a true cream to powder formula. So when you apply it, it applies like a cream but it drys like a powder. So if you have oily skin, you don't need to be afraid of this product. It is not going to leave your face looking greasy. Because I know if you have oily skin anything involving the word cream, you usually want to stay away from, but I love this and it is definitely a great product to have in your makeup collection.
Highlighting Blush in Albatross- This is just a powder with some gold reflects in it. And you can use it as a highlighter across your cheekbones, but you can also use it on your brow bone and the inner corners and you can also use it as an eyeshadow. I've actually used it before in my eye makeup look a few weeks ago. So yeah, I definitely recommend the Albatross highlighter. Although, I don't recommend dropping it since NARS products tend to break really easily if you drop them and I have dropped mine a lot.
Eyes:
Smudge Proof Eyeshadow Base- This product is just phenomenal. It makes my eyeshadows last 24/7 without creasing or fading. I just love it. It is very comparable to my all time favorite eyeshadow primer Too Faced Shadow Insurance. It just works really well, but if you want a drugstore version of this product I would say to check out ELF Eyelid Primer. It is only like one dollar at Target.
Shimmer Eyeshadow in Ashes to Ashes- And this is just kind of a dusty purpley grey brown color. I love wearing this in the crease and it has some shimmers in it. These are just really great everyday eye colors that I am telling you in this starter kit post.
Shimmer Eyshadow in Lola Lola- This eyeshadow is just a gorgeous brown, just a really nice rich shimmery brown. Which is also a great crease color, but it is also great for the lid as well.
Duo Eyeshadow in Charade- This is my all time favorite eyeshadow duo along with Silk Road. One side it is kind of like a rosy pink color and on one side it is like a greyish purple color. And this is something that I would never picked out on my own, because I don't really like matte eyeshadows. But the guy at the counter says that this would look great with my eye color. But since it is kind of purple I think it will look great with any eye color, you don't have to have blue eyes like me to wear this. So I trusted him and I bought and I tried it out and he was so right. This really makes my eyes pop. I love how it looks against my eye color. So if you have blue eyes, I really really recommend you checking these out. I love wearing these two colors on top of MAC Bare Study paint pots. I think it looks amazing . And I would just wear the pink color all over my lid and then the purple color in the outer corner and the crease.
Duo Eyeshadow in Silk Road- And of course I cannot forget my all time favorite eyeshadow duo Silk Road. This is just a really nice icy pink on one side and a rosey gold color with gold flecks on the other side. I think I have a tutorial up using this, but correct me if I am wrong. But this looks absolutely phenomenal with MAC Rubenesque paint pot underneath. It is also a really wearable school look and just everyday overall. But I am not sure about work, since it is really shimmery.
Larger Than Life Volumizing Mascara- The next product that I really recommend from NARS are their Larger Than Life Volumizing Mascara. They also make another one that is for lengthening, but I usually go for volumizing mascaras since I have already kind of long lashes. But I have tried their lengthening mascara and it works amazing. It works just as well as the volumizing. But I never hear too much about NARS mascaras, which is kind of strange to me. Because I really really love them, the formula is great it is really easy to work with. I think that they have great mascaras and it is worth the trying out if you are interested in a high end mascara.
Lips:
Lipstick in Roman Holiday- It is a beautiful bright pink. I think that NARS has one of the best lipsticks in the market out there today. Their lipsticks are totally worth the money. They are so moisturizing, creamy and last a really long time. I actually prefer their lipsticks over MAC lipsticks. It is just a few dollars more, but the quality are so much better than MAC. I like to just apply it all over my lips because I am in the face of bright lipsticks right now, but if you want a wearable pink you can totally achieve that by just dabbing it on your lips.
Lip Gloss in Striptease- If I was to only recommend one lipgloss from NARS it would have to be Striptease. It also goes really well with Roman Holiday lipstick. It basically is just a candlelight nude that I think goes well with almost every skin tone I can think of. Now some people says that NARS lipglosses taste like plastic or they smell funny. But I personally don't think that they have any smelss or taste at all to them. Which is one of the reason why I really like them. The formulation to these lipglosses are great. Because they are not sticky but they give a really great color. The only thing bad that I have to say about them though is that they don't really last too long on your lips. But that is not a really huge problem to me, I still enjoy wearing them. But if you don't like nudes my 3 other favorite lipglosses from them are Orgasm, Turkish Delight and Sweet Revenge. So I definitely recommend these glosses to you. Also, Striptease goes really well with any nude lipsticks. I love to pair it with Revlon Soft Nude or MAC Creme De Nude lipstick.
Nails:
Opaque Nail Polish in Bad Influence and Chinatown- My two all time favorite NARS nail polishes are Bad Influence and Chinatown. They are super opaque you only need one coat to get the perfect nail color. Bad Influence is just a super beautiful smoky taupe color perfect for the fall and winter months. Whereas, Chinatown is a blood red color so it will work all year round. My other favorite nail polishes from NARS is form their shimmer nail polishes line and it is Purple Rain. I just love that color as well, but not as much as Bad Influence and Chinatown.
WARNING!: NARS Blushes can break you out if you have sensitive skin or is allergic to any of the ingredients. Because I heard that NARS blushes broke some people out, it is like they get little bumps on their cheeks. So I would be be careful if you are going to try NARS blushes, research what ingredients they have and see if you may be allergic to any of them
So if you have any comments or questions about any of these products mention or just NARS in general. You can leave a comment down below and I'll try my very best to help you out.
Picture is from
http://www.enjoy-your-style.com/images/nars-cosmetics.jpg