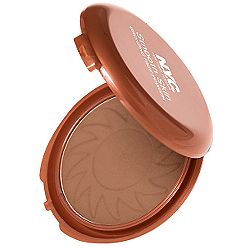 I've been wanting to do this review a really really long time ago. Since, I think August and it is now October so it has been quite some time. But I figure I might just still do it anyway. Because it's better late than never.
Anyway, this review if you can't tell already it is on the NYC Smooth Skin Bronzing Face Powder in 720 Sunny. I will be going over the pros and the cons. But I will go over the cons first, since I think the good should always comes last in a review. This products retails for $2.99 without tax, so you can kind of adjust how much it will be with tax for your state.
Cons:
Shades- It only has one shades which is in Sunny. The one I have. I am not sure if they will come out with more shades in the future. As of right now, they don't so I will be listing this in the cons section for the product. Basically this means it will not work on every skin tone. I would say it is best if you have light to medium light skin I would recommend checking it out. But if you don't it won't come off as a good bronzer for you. But it is my all time favorite drugstore bronzer and my all time favorite bronzer along with Benefit Hoola.
Breakable- This products is really easily breakable, especially when you hit pan. So you have to be really careful with bringing this with you in your purse, stay over night at someone house and just bringing this with you somewhere you have to be careful about.
Dirty Mirror- The last con I can find with this product is that the mirror gets really dirty. So if it breaks than you will probably have to keep a tissue with you because if you want to use the mirror, you need to clean it. Since, it is already kind of dusty when it didn't even break.
Pros:
Affordable- It is super affordable for less than $5.
Pigmentation- It has absolute high pigmentation. It shows up on your skin really pigmented if you have light to medium light skin. One swipe of this it will be a good a bronzer.
Matte- Since, it is a matte bronzer it will be more usable than a bronzer that is not matte. So you can use this to contour.
Versatile- This product is also really versatile. You can use it as an eyeshadow, because I've tried and it works. I also have seen a few people on YouTube even use it to fill in their eyebrows. And I'm pretty sure there are more uses to it.
Quality- The quality is just great. It doesn't come off orange and is also very hard to come of orange on any skintone. Because I know that this might be a problem for us light skin girls.
Packaging- I also really love the packaging. It is really easy to open. And it also doesn't open easily if you have it in your purse. But I would still be real careful with it, since when my bronzer broke the compact open and it spills everywhere. I also would say that I really like the mirror, except for the con that I already have mention.
Lasting- I would say that you get a lot of use of this product. I hit pan on it when I had used it for about 6-7 months. But I finished the entire product for about 12-13 months.
Let me know down below, if you've have tried this product. And also tell me if you liked it or not. And what would you rate it out off on a scale of 1 through 10. I would give it a 9 out of 10.
Picture is from here
http://s.shld.net/is/image/Sears/01346569000?hei=248&wid=248&op_sharpen=1&resMode=sharp&op_usm=0.9,0.5,0,0